CHANDIGARH: While finalising the
excise policy
for the next financial year, the UT administration turned down plea of hoteliers and liquor vend owners to reduce violation penalty amount.
Like the current excise policy, the administration has once again kept the excise act violation penalty as Rs 1 lakh for first violation and Rs 2 lakh for second violation. The penalty will be same even for the non-maintenance of minimum rates for selling liquor in the city. As per excise policy 2019-20, "In case of not maintaining the minimum retail sale price by the retail sale, Rs 1 lakh penalty will be imposed by the competent authority for the first time and Rs 2 lakh for the second time. Thereafter, if any violation of non-maintenance of minimum retail sale price is detected, the retail sale license of that unit will automatically be suspended on detection of breach for the day of detection and two days following it."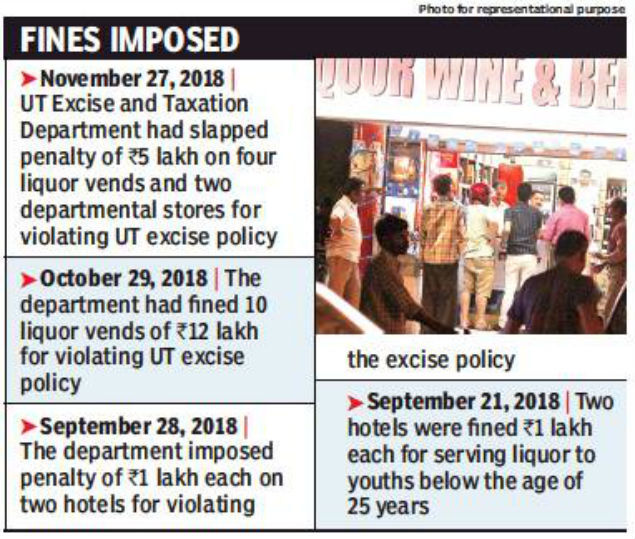 Requesting anonymity, a liquor vend owner said it is good that the department is penalising violators but the amount of penalty is on the higher side. They had submitted their representation to reduce penalty amount but the administration did not considered their plea, he added.
According to the UT administration, the new excise policy would help the administration earn approximately Rs 600 crore in the form of revenue in comparison to Rs 510 crore earned last year.
Under the new policy, excise levy on country liquor has been increased by approximately 17% and the same on Indian Made Foreign Liquor (IMFL) has been increased by approximately 20%. To promote low alcoholic contents in beverages like beer, wine and particularly to boost Indian wine industry, the license fee has not been increased and kept at Rs 12,000 for the entire year. Further, the label registration fee of wine has been reduced from Rs 15,000 per brand to Rs 10,000 per brand.
The policy further states that the excise duty of microbrewery has also been reduced from Rs 50 per bulk litre to 30 per bulk litre to shift the consumers from hard liquor to soft liquor. The license fees of microbrewery, restaurants/pubs and bars have also not been increased from the last year.