PUNE: A 10-year-old girl was electrocuted on Monday evening after she accidentally touched an electricity pole outside her house at lane No. 29 in Janata Vasahat.
The incident occurred around 5.30pm when Gauri Ashok Shilimkar came out of her house to play after a spell of rain. As soon as she touched the electrically charged pole, Gauri got stuck to the pole.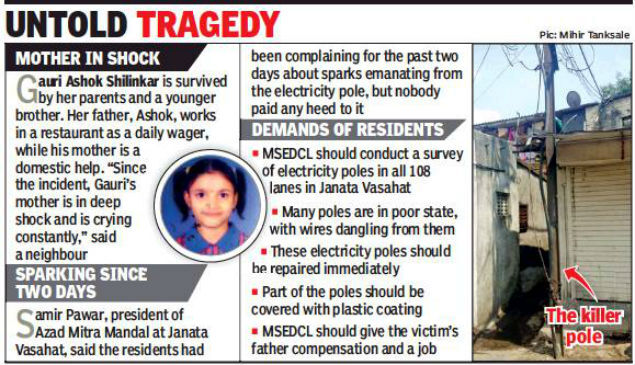 Rajan Khedkar, a resident of Janata Vasahat, who attempted to rescue Gauri, told TOI, "I was riding my scooter, when I heard a commotion near lane No. 29. I stopped after noticing a little girl stuck to the electricity pole. She was quivering."
Khedkar left his scooter and rushed to her help. "I looked for a wooden stick so that I could separate her from the pole. As the pole was electrically charged, it was not possible for me to touch the girl," Khedkar said, adding that he found a small stick and managed to pull her back.
He took the girl on his scooter to a nearby hospital. "Unfortunately, she was pronounced dead on arrival," Khedkar said.
Assistant inspector Nandkumar Kenche of the Dattawadi police, who too reached the spot, contacted the Maharashtra State Electricity Distribution Company Limited (MSEDCL) office and asked the officials to cut off the power supply to the area. "We have registered a case of accidental death," Kenche said.
Senior inspector Devidas Gheware of the Dattawadi police said, "We will register an offence for causing death due to negligence against the MSEDCL officials. We will also help the girl's parents in getting compensation."
An MSEDCL officer, who was at the spot on Monday, said Rs20,000 had been given to the girl's family as initial help. "We will initiate the process of compensation," he said.
Every day, Gauri used to play at the same spot with four children from the neighbourhood. "On Monday morning, the four children left for their native place. Else, the tragedy could have been worse," a neighbour said.
He said wires dangled from many poles in the neighbourhood. "Every household in Janata Vasata has electricity meter, but dangling wires are quite risky. About three months ago, another minor girl, Arya Ganesh Sapkal, from Janata Vasahat was electrocuted while playing near her house."