HYDERABAD: Their motto: Duty, Honour & Compassion. But, after performing extended duty hours for over six months, Telangana
cops
feel 'Exhaustion' should also be added to their force's motto.
Since the assembly was dissolved in September 2018, police have been busy with bandobust duties, providing security to contestants, star campaigners, taking care of public safety at meetings and rallies and conducting vehicle checks. During the last six months, city police have also handled Ganesh immersion, Dasara and Diwali bandobust.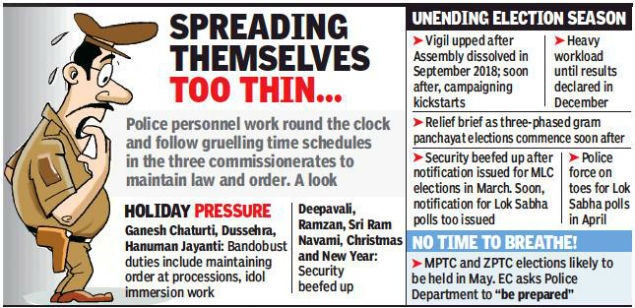 After the assembly elections were conducted and TRS returned to power, gram panchayat polls were held in three phases in January 2019. By February, Lok Sabha election campaigning started and the schedule was announced in March. MLC elections were also conducted in March.
After performing non-stop bandobust work, police thought there might be some relief after the polling was over on April 11, but then came an alert about MPTC and ZPTC elections. "My staff have worked on 12-hour shifts without a leave, taking time off only for an emergency during the election season. They are exhausted. Now, they will be sent for MPTC and ZPTC election duties in May. The only positive thing is that there would be no elections for a considerable amount of time after May," an inspector with the Cyberabad police commissionerate said.

All the extended work hours would definitely take a toll on a cop's health. Assistant sub-inspector (ASI) B Anjaiah, who joined service as a constable in 1989, suffered a stroke at the police station, when he went to the wash room after finishing his duty at 3pm on Monday. He was declared brought dead at a nearby hospital. Colleagues of Anjaiah said that, like all of them, he also continuously worked as part of election bandobust despite suffering health issues.
"At the time of joining duty, police personnel know what they are signing up for. In the city, the three-shift system is in place, but sometimes works hours get extended. That is the nature of our work. In recent times, health camps are being held regularly in districts for police and several cops identified their problems and took remedial steps. If there is a provision of weekly off, it will be good," Telangana State Police Officers' Association president Y Gopi Reddy said.
After coming to power in 2014, chief minister K Chandrasekhar Rao had announced at a meeting that police would get weekly off. However, it reamined an idea and is yet to be implemented.
"The matter of giving weekly off to police personnel working in the state is under consideration. Unit officers are trying to provide maximum possible free time to police personnel on field duties to keep them in best physical and mental shape," additional director general (Law & Order) Jitender told TOI.