KOLKATA:
Traffic congestion
eased both inside and outside the airport on the first day of the implementation of the new parking norms at the Kolkata airport. On Wednesday, private car owners were elated at the abolition of the 10-minute window and were happy as well with the pocketfriendly parking fee — Rs 40 for a 30-minute stay at the parking lot.
As per the updated system, cars were provided with entry time tickets and were diverted to three different paths — one for private vehicles and app cabs, the other for commercial vehicles and another towards the parking lot. The access fee of Rs 60 and the parking fee (Rs 40 for smaller cars and Rs 60 for SUVs for first 30 minutes) has to be paid upfront at the time of entry. The old exit kiosk outside the airport premises was shut down from Wednesday as the updated parking fee was being collected at the parking exit counters.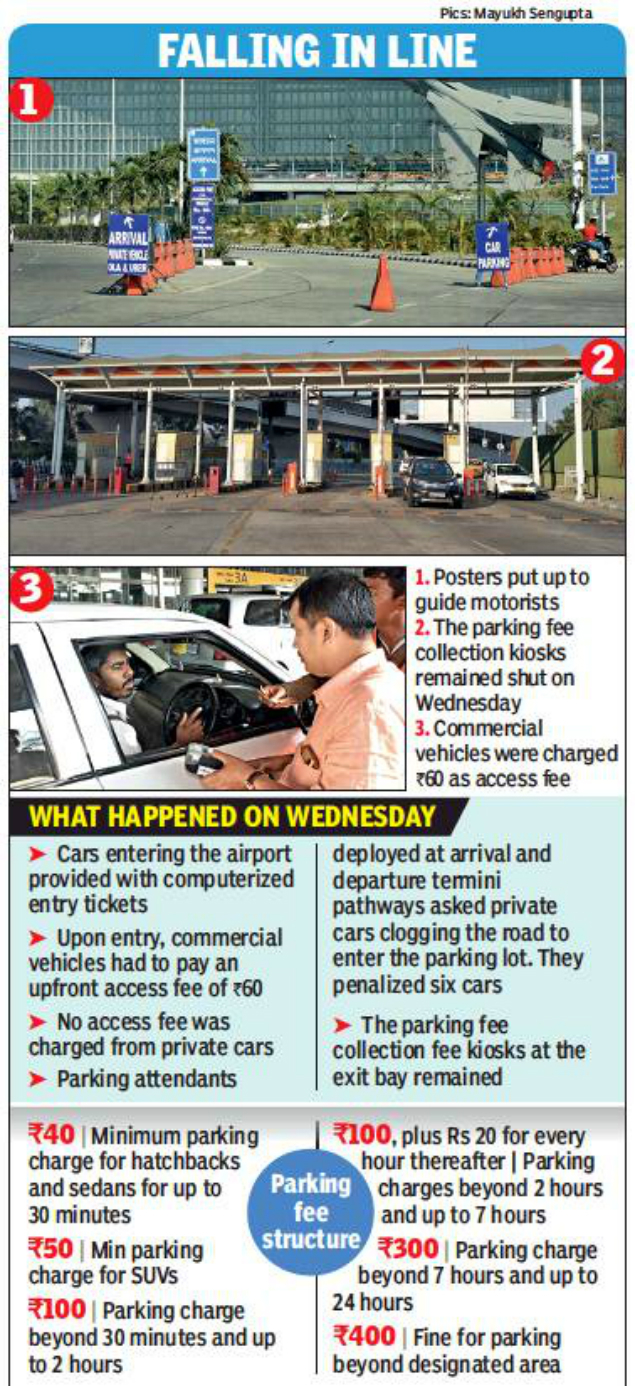 Parking attendants, dressed in orange jackets with reflectors, were posted on the pathway outside the terminal where the cars stop to pick and drop passengers. They kept alerting drivers at regular intervals if found crossing the 3-minute dwelling time and asked them to either move out or enter the parking lot. If some cars sought for some extra time, they allowed it.
"With no more computerized calculation of time, the new system gives us a more human connection where we can talk to the attendants in case it takes us one or two minutes more. In my case, they allowed me to stay there for two extra minutes as my elderly aunt needed to go to the washroom," said Sumit Mukherjee, a resident of Lake Town, who had come to pick his elderly uncle and aunt.
For those who had been crossing the time limit, the attendants requested them to drive to the parking lot. "We are refraining from penalizing private cars from today. In case someone is found taking too much time, we are asking them to head to the parking lot. But if the driver refuses and misbehaves, we are calling the cops," said Sanjay Atha, the director of Wenz, which is in charge of manning car parking at the airport. Atha added till 8pm on Wednesday, six cars were booked and slapped a fine of Rs 400 each for parking outside the designated parking area.
While private car owners were happy with the change, those availing commercial vehicles weren't happy with the access fee. "I had called the office car to pick me up and would have left the airport in less than 10 minutes. Earlier, I didn't have to pay anything. But today, I had to shell out Rs 60 just because a car with yellow number plate had come to pick me," said Sanjay Chowdhury, who works at an IT firm in Salt Lake.