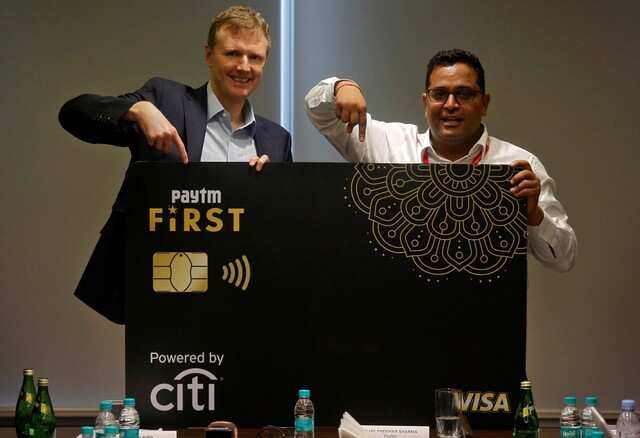 By Una Galani
MUMBAI, May 17 (Reuters Breakingviews) – India's tech stars are going plastic. SoftBank-backed ride-hailing outfit Ola and Paytm, which counts Warren Buffett's Berkshire Hathaway and Alibaba affiliate Ant Financial as investors, have just unveiled credit cards with generous rewards. In this case, though, heavily subsidised growth may be profitable.
Actual cards in wallets are destined to become relics, especially in developing economies where it is now easy to make payments by scanning a QR code or sending a message on a smartphone. Making it easier for people to borrow to buy small and large items is a big opportunity, however.
The country is home to more than 920 million debit cards following a huge government-backed drive to open bank accounts and promote financial inclusion amongst the country's poor. By contrast, there are only about 5% as many credit cards in circulation. Worries about finding the right customers, and the cost of doing so, have kept banks from pursuing the lucrative business built on fees and high interest rates.
Offering cards through Paytm and Ola, with some 450 million users combined (though there is undoubtedly overlap), will dramatically reduce the cost of acquiring customers. These fast-growing startups have accumulated years of consumer credit history, as their services are often used two or three times a day to pay for taxi rides, train tickets and utility bills. That data should, in theory, help banks to better assess the underwriting risks.
As with most everything online, especially in India, discounts and other enticements matter. Paytm's Citi-powered card is offering unlimited 1% cashback on all purchases, more than is widely available. And Ola's card, backed by the gigantic State Bank of India, will return customers "Ola Money" equivalent to 7% on ride fares – a big saving for daily commuters – and 20% on certain domestic hotel bookings.
Banks will be at least partly funding these benefits. By riding the unicorns to a largely untapped market for unsecured personal credit in India, however, lenders and customers alike should be reaping rewards.
CONTEXT NEWS
– Indian ride hailing company Ola on May 15 unveiled its own credit card in partnership with State Bank of India, the country's largest lender.
– The SoftBank-backed startup said it aims to issue 10 million so-called "Ola Money SBI Credit Cards" by 2022. Users will receive 7% back on Ola ride fares and 20% back on hotel bookings, under certain conditions, with the earnings credited to the user's Ola Money online wallet.
– A day earlier, Paytm released its own Paytm First Card, issued by Citigroup. The card offers unlimited 1% cashback on purchases. Founder Vijay Shekhar Sharma said the card would encourage cashless payments for larger items.
– Alibaba affiliate Ant Financial and Warren Buffett's Berkshire Hathaway are investors in One97, Paytm's parent company.
(The author is a Breakingviews columnist. The opinions expressed are her own.)
(Editing by Jeffrey Goldfarb and Katrina Hamlin)