HYDERABAD: The
University
of
Farmington
row has ballooned into another controversy. The varsity was not
fake
but was legitimate, argued attorneys fighting to bail out the detained students and said the students were 'entrapped.' Curiously, the Accrediting Commission of Career Schools and Colleges (ACCSC) provided accreditation to the university, which was also a Student and Exchange Visitor Program (SEVP)-certified school.
While the US Immigration and Customs Enforcement (ICE) alleged that this was a case of 'pay and stay' where the students knowingly violated non-immigrant F1 visa status to work in the US, the attorneys said it was a "targeted entrapment". ACCSC has recently clarified that it had provided legitimacy to the university as part of their cooperation with the federal investigation and listed it on its website. ICE public affairs officer Carissa Cutrell, in an e-mail reply to TOI on Wednesday, said: "The University of Farmington was included in the list of SEVP-certified schools and can be found on Department of Homeland Security website. This list should serve as a starting point for an international student looking to study in the US. From there, students should evaluate all aspects of a school's offerings before making a decision to enrol."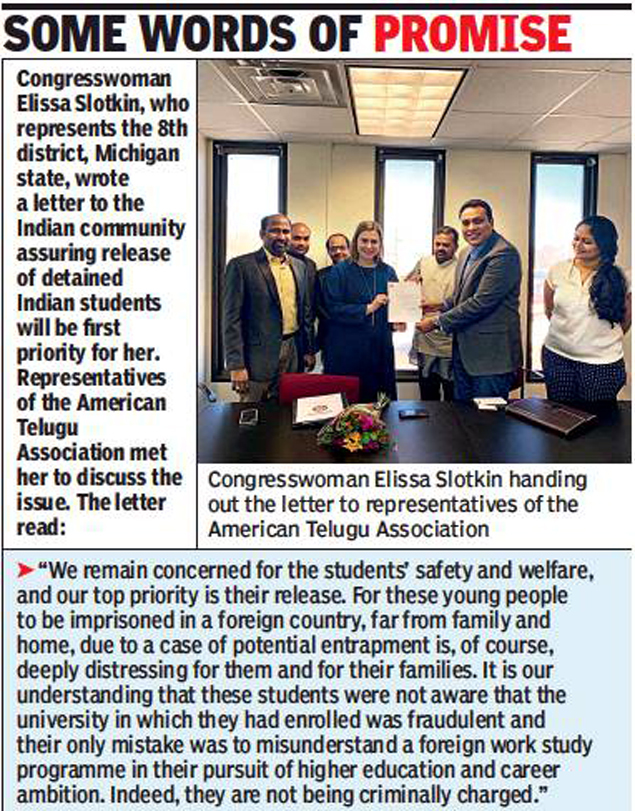 Cutrell further said: "All international students need to be vigilant in complying with pertinent laws while studying in the US. The DHS website has information on maintaining legal status. SEVP schools are subject to regular re-certification and SEVP actively investigates schools using out-of-cycle reviews and acting on anonymous tips submitted to the agency."
Immigration attorney Prashanthi Reddy, who is fighting on behalf of the detained students, told TOI that the federal agents can take defence under entrapment code. "For instance, a woman police officer in disguise approaches with solicitation and can nab a person. Entrapment is also done in drug cases. It is interesting to see the case of Farmington varsity at the level of entrapment," she said.
Prashanthi said students in detention told her that they had sent e-mails to the University of Farmington asking them why classes were not conducted. "They were told classes will be conducted. The key allegation against the students was that their Student and Exchange Visitor Information System (SEVIS) was terminated. In case of students having H1 and those who are transferred to other universities, they alleged that it is an immigration law violation," she argued.
American Telugu Association president Pradesh Bheemreddy told TOI that the students were dragged into a situation where they were forced to commit a violation of F1 rules. "If the ICE hasn't trapped the students, they would have applied other varsities like Cumberland University and Harrisburg University," he added.