HYDERABAD: Greater Hyderabad Municipal Corporation (
GHMC
) will restore and renovate 12 clocks in old towers across the city. Arvind Kumar, principal secretary, municipal administration, visited Shalibanda, Sultan Bazaar and
Monda Market
and saw that the clocks were either dilapidated or non-finctional.
He directed GHMC officials to prepare a restoration plan that includes repair of the clocks, constructing compound wall on all four sides, painting and lighting.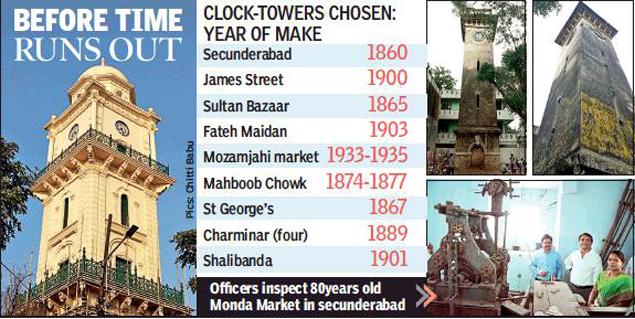 "Even trees have to be trimmed for better visibility and encroachments have to be cleared," he said.
Kumar also asked officials to take up repair works of the old assembly hall on the premises of Sultan Bazaar Government High School. He observed that the structure was dilapidated and the clock on both sides of the gateway was not working. He asked GHMC officials to take up repairs of the clock and ensure its periodical maintenance.
At Sultan Bazaar, the clock was not working and the tower was dilapidated. As there has been no maintenance for long, encroachments have sprung up. The situation was no different at Monda Market. Kumar went inside the first floor of the building where the clock is fixed and directed officials to repair it. He also went around the old jail khana and directed the zonal commissioner to convene a meeting with local shopkeepers and take up minimum repairs with their cooperation.